AT-200 Guitar from Peavey
Tuning In with Peavey's AT-200 Guitar
by Levi denBok

First off, I'd like to thank Peavey for allowing me to take their new guitar for a test run.  I had a great time trying to navigate through all of the interesting features. I should start with a little footnote about myself so that you can read my review in the proper context. My name is Levi denBok and I lead worship at First Baptist Church in Orillia. I do some traveling with my band and we minister in different (mainly youth and young adult) settings. I'm a minimalist when it comes to guitar. I don't use many pedals, and when I do I like to keep it really simple. My motto for gear has always been to buy something that has such a nice sound that it doesn't need to be masked or manipulated. I'm also not much of a techy, and I typically lean towards the acoustic guitar when I lead. All of that said, here are my thoughts on the Peavey AT-200 guitar, powered by Antares Auto-Tune.
I am very familiar with Peavey because of their amps, one of which I still have at my parents' house in my old music room, but less so with Peavey guitars, and not at all with the AT-200. The two humbuckers that come stock with this guitar give a decent tone. I ran it through my Vox AC15 in the top-boost channel and it was a good sound for the price. I wouldn't likely use it without a good reverb pedal in a live setting. However, this guitar is not priced for its individual tone, but for all of the unique features that come with it.
This is where the fun kicks in. I wasn't sold on this guitar until I started to play with their unique auto tune settings. I'll start by saying I wish that the auto tune feature didn't require additional battery power. Instead of relying on batteries, it is highly recommended to purchase the optional AT-200B breakout box. Not only does this box power the guitar, but it also has MIDI jacks for using a MIDI pedal to access presets and carries the audio signal down as well, so only one cable is necessary. This box is connected using the 8 pin DIN on the guitar. That being said, the batteries are only in use when the auto tune feature is activated, so they last for a pretty long time. The manual does a good job describing how to use this feature but I'll give you a quick tutorial. To activate the auto tune function push down the auto tune knob. Once activated, you will be using the volume knob and the strings on your guitar to select features. You simply press down the knob and pluck the string that corresponds with the feature you'd like to activate.
How many features?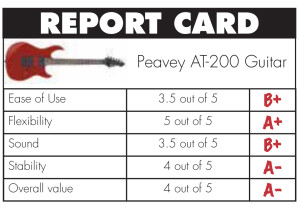 This guitar does not simply offer alternate tunings, which is what I came in believing. It is essentially a multi-effects pedal built into a guitar activated by individual frets, when used with the Antares Complete Pack. The low E string offers nine different presets. For instance, pressing and holding the volume knob down and plucking the third fret on the low E string will automatically change the guitar to a Nashville Single Coil preset.
You can even pluck the ninth fret and turn your electric into a bass (though your amp might not appreciate it). The A string is where you'll find your alternate tunings. I really enjoyed this feature and think this is where worship leaders will find the most value in this guitar. There are twelve options to play with, and I really enjoyed fret ten which is double drop D.
Whichever preset you have activated from the E string will carry on as you add alternate tunings and the like. So, after holding the volume knob down and plucking fret 10 of the A string, I would get a Nashville single coil sound with double drop D tuning.
The D string offers doubling features that I'm relatively unfamiliar with. You can make your guitar sound like a 12 string guitar or you can fourth up. It also offers a transposition feature along with the G and B strings, but I didn't get much use out of that. If you are playing a set and you don't want to use capos or bar chords, you could save a preset for a particular song that is transposed up to where you need to it to be. That could be a useful feature if the user is prepared.
Finally the E string gives you the ability to save this new sound you've created as a preset. The presets are really where the user will find the value. I can absolutely see a need for a good drop D or open E tuning on demand with the pluck of a string.
If you are tired of hauling around pedals or if you love alternate tunings, this is a great guitar for you. Peavey is onto something with this guitar. I would love to see them lose the transposing features and instead incorporate some delay, reverb and tremolo models. If it's going to be a guitar with a built-in multi-effects pedal than go all in! I really believe there's a
market out there for a product like this and the upgrades to come. Another feature I'd like to see added is an extra light that indicates that your tuning was effective. If you're playing at home and you use the auto tune feature than you can simply hit the button and listen to your guitar tune up or down to be sure that your tuning is complete. However, on stage I would like to turn
my volume down so that it's not a distraction, and a light that flashes to confirm my transition would be extremely helpful.
All in all, this is a very cool guitar and I think we'll be seeing many more like it in the near future.
Levi denBok is a worship leader at First Baptist Church in Orillia.  You can find his music on iTunes under The Levi denBok Band.