ADJ's Compact LED-Powered Fresnel Fixture
The FR20 DTW is an incredibly compact, yet surprisingly potent, wash fixture that is ideal for a wide variety of stage, theatre and commercial applications where space is limited. It is the most recent addition to ADJ's popular Encore range of LED-powered stage lighting.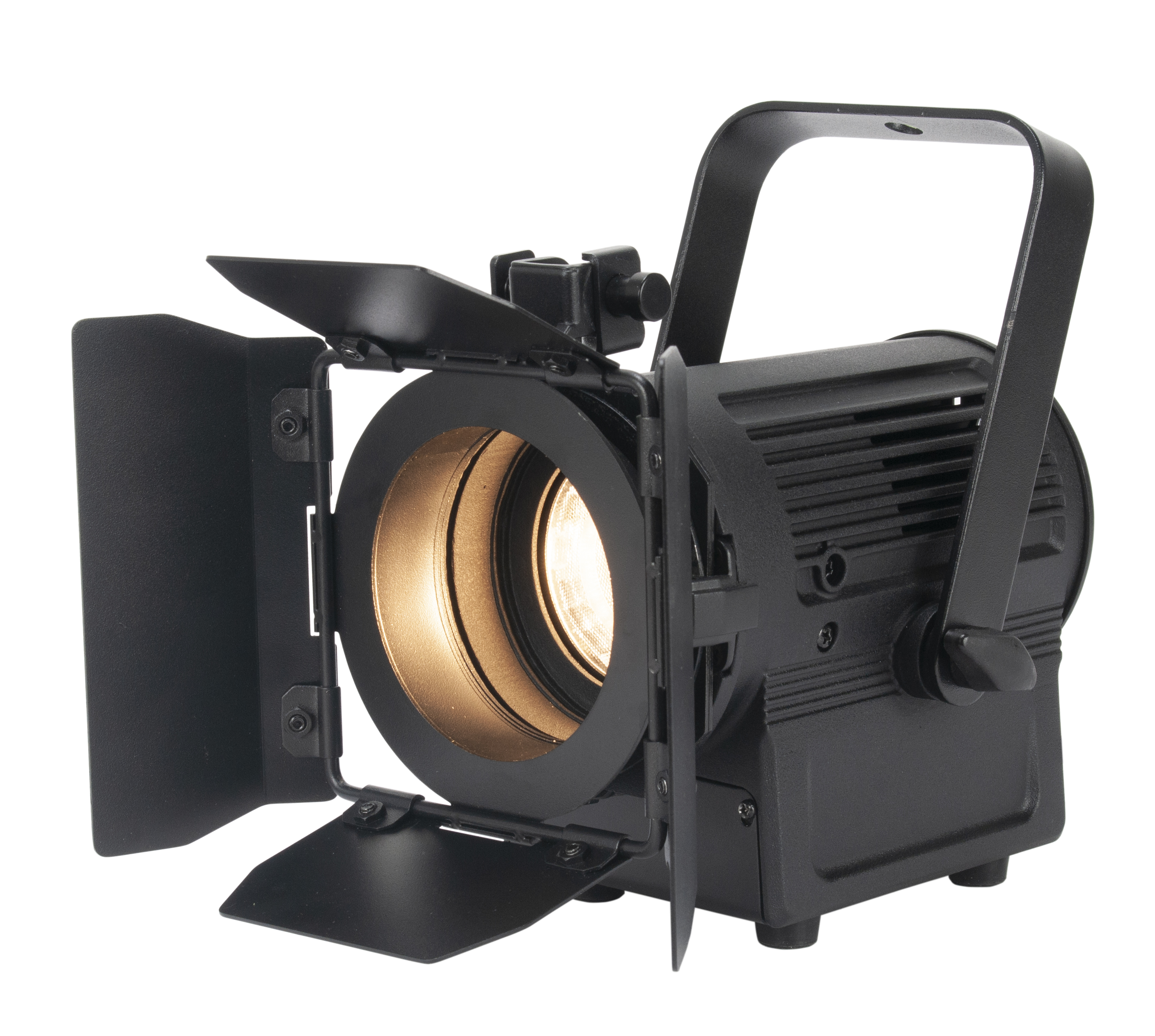 The Encore FR20 DTW is powered by a 17W LED engine and is equipped with a 2-inch Fresnel lens. It produces a soft-edged beam with a 19-degree beam angle and is perfect for illuminating small stages, performance areas and displays. It is also supplied with a Frost Filter, which can be used to increase the beam angle up to 45-degrees, as well as a gel frame that can be used to hold colored gels (sold separately) in front of the lens. Removable metal barn doors are also included as standard, which can be used to adjust the beam dispersion.
The fixture generates a warm white wash with a color temperature of 3000K and also features Dim to Warm technology. This means that the light source incorporates an LED element with a lower color temperature which is automatically mixed into the light output as the dimming level is decreased, creating the appearance of the incandescent glow associated with halogen lamps as they are turned on and off.
A manual dimming knob is located on the rear of the fixture, which can be used to alter its output between 0 and 100%. However, unlike most LED-powered units, the fixture is also Triac-dimmable. It is compatible with ADJ's range of DMX dimmer packs – including the two-channel Uni Pak II and four-channel DP-415R or DP-DMX20L models – as well as Lutron and Leviton wall dimmers. This means the fixture can be easily integrated into an existing dimmer-based stage lighting setup or included as part of a regular commercial lighting installation.
The Encore FR20 DTW is a unique fixture that is perfect for a wide range of situations that require a professional-caliber, but extremely small, Fresnel fixture. As well as small theatre and stage productions, it is ideal for shop window displays, art galleries, coffee shops with performance areas and church youth rooms.
Offering a light output of 600LUX, measured at a distance of 3M, the Encore FR20 DTW is an ideal solution for illuminating small performances areas. Thanks to its efficient LED light source, very little excess heat is generated which will help to keep the on-stage temperature cool for performers. The fixture's LED also offers an operational life of 50,000 hours, which eliminates the time and cost involved in replacing lamps that comes with traditional halogen lamp-based units.
Despite its diminutive dimensions of 10.25" x 5.25" x 8.25" / 259 x 133 x 210mm (L x W x H) and low weight of 5 lbs. / 2 kg., the Encore FR20 DTW has an extremely robust casing design. Boasting a fully metallic construction (including the hanging bracket) finished with a high-quality matt black powder coating, the fixture will look at home as part of permanent installations in luxurious surroundings and is also tough enough for touring and event production duties.
The new FR20 DTW joins two existing wash fixtures in the ADJ Encore range. The FR50Z features a 6-inch Fresnel lens and is powered by a 50W LED engine, while the FR150Z is equipped with an 8-inch lens and harnesses the power of a potent 130W LED light source. In addition, the Encore Series also includes two profile fixtures – the  Profile 1000 Color, which utilizes a 120W RGBW LED, and the Profile 1000 WW, which features a 120W warm white LED – as well as the Burst 200, an LED-powered high intensity twin blinder/strobe fixture.
"The ADJ Encore Series of stage lighting fixtures is proving extremely popular, bringing the power-saving, low-heat and long lamp life benefits of LED to the world of theatre," comments ADJ USA's National Sales Manager, Alfred Gonzales. "We're therefore excited to be expanding the series by adding the Encore FR20 DTW, a fixture that serves a very specific niche. Combining a powerful warm white LED light source with a Fresnel lens in an extremely compact, yet durable unit, this unique fixture is ideal for a wide range of situations where a professional-caliber Fresnel is required but where space is limited."
For more information on the ADJ Encore FR20 DTW, please visit www.adj.com.