A.C. Lighting Inc. Launches Website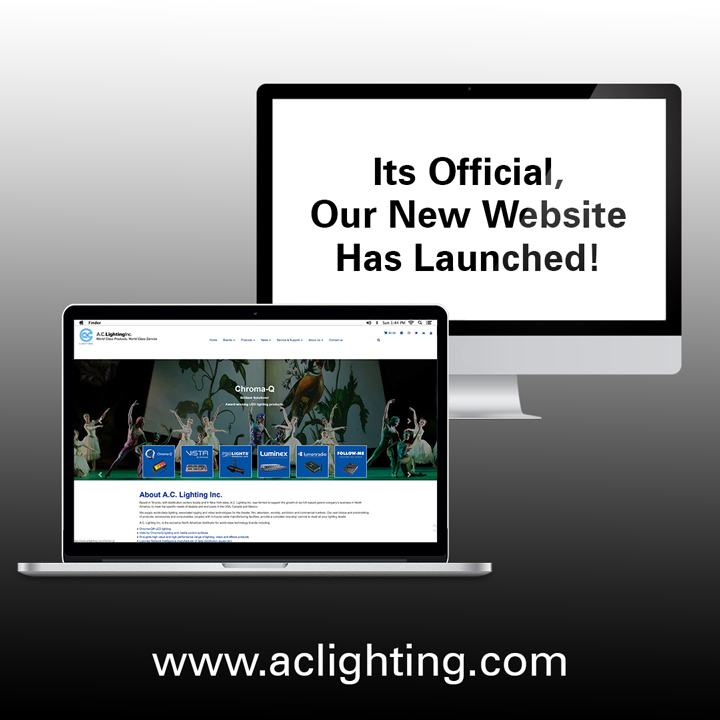 A.C. Lighting Inc., distributor of world-class lighting, rigging and video technologies is pleased to announce the launch of their new Website – www.aclighting.com.
Designed to deliver an enhanced user experience, www.aclighting.com features easy to use menus with fast navigation, a clean and easy to use design. The site is now fully responsive, adapting to your mobile device, tablet or desktop.
The website features Exclusive Brand pages as well as product pages for all of the Manufactures we partner with, including; Chroma-Q, Vista by Chroma-Q, PROLIGHTS, Luminex, LumenRadio, Follow-Me, Prolyte, and Jands. You will find a detailed download page, support documents, reference, and an area to learn about light.
"A.C. Lighting Inc. is dedicated to improving the customer experience through our website." explains Kyla Werrett, Marketing Project Manager. "Our improved website provides improved product details, images and information about A.C. Lighting Inc. and the brands that we carry."
A.C. Lighting Inc. is excited to be attending LDI, November 22-24 in Las Vegas. Stop by booth #2354 to see our newest product selections and all of your favorites. The show is held annually in Las Vegas and is the leading conference and tradeshow connecting design, technology and production to the live audience experience. Alternatively, you can find our extensive product range on our freshly designed website www.aclighting.com.
Don't forget to follow A.C. Lighting Inc. on Social Media:
---
ABOUT A.C. LIGHTING, INC.
A.C. Lighting, Inc. is a value-added distributor of world-class lighting, associated rigging and video technologies for the theater, film, television, worship, exhibition and commercial markets.  A.C. Lighting Inc. is the exclusive North American distributor for world-class technology brands including Chroma-Q® LED lighting, Vista by Chroma-Q lighting and media control, PROLIGHTS high value and high-performance range of lighting, video and effects products, Luminex Network Intelligence manufacturer of data distribution equipment, Follow-Me Remote Follow Spot Control Systems, PROLIGHTS, LumenRadio wireless lighting controls, and Prolyte staging and trussing.
For more information visit www.aclighting.com  or call (416) 255-9494.