16'x9' Outdoor Movie Screen Made Simple
OutStandingScreens™ is introducing its 16'x9', 220", American-made outdoor movie screens to a broader market through a new outreach initiative.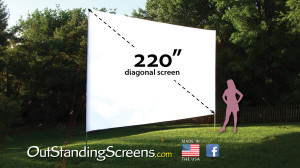 OutStandingScreens™ has significantly lowered their price for 2014 to an amazing $549, which comes with a 45-day money-back guarantee if customers are dissatisfied in any way.
"Customer satisfaction is a priority," said Lawson Phillips, owner of OutStandingScreens.com. "We are excited about our customer's experience because we developed and use the product ourselves. We aren't just here to sell a screen. We want our customers to experience the movies as we do and we want them to be genuinely satisfied with their purchase."
OutStanding Screens™ aspired to develop a screen large enough to have real impact. At the same time they wanted them to be lightweight, simple enough for one person to set up and take down, and easy to transport and store. The result was a 16'x9' screen with a 220" diagonal measurement. The complete screen comes in a 6"x6″x72" box weighing only 21 pounds. They even include two extra stakes, a 1 pound rubber mallet, and a 30' tape measure in every box. Everything you need is included.
OutStanding Screens™ doesn't quit supporting the screen after 45 days. They have a website (http://www.outstandingscreens.com) full of helpful information about choosing equipment for outdoor theater and other educational resources. There are also links to YouTube and Facebook where you can see one person set up and take down a screen, as well as find other helpful information. "If you can't find the answer, give us a call or email us. Answers to questions raised by our customers will be added to our website."
"We look forward to getting our new screens in front of a broader customer base," said Phillips. "OutStandingScreens.com is a young company and we're anxious to get our new product in front of prospective buyers. We don't just sell a product that was manufactured and boxed by someone else; we have the latitude to alter the packaging for custom orders and respond quickly to customer needs. We want our customers to experience satisfaction with our products and our support. We treat our customers the way we want to be treated."
What makes us better?
Light-weight and portable – The whole box (6"x6"x72"), carrying case, screen and hardware shipped to your door weighs less than 21 pounds. Compare that to others weighing over 90 pounds for a 16'x9' screen. Which do you want to put away after the show?
Front and rear projection – All OutStandingScreens™ allow for front or rear projection.
Simplicity – Unlike inflatable screens, there are no fan motors to troubleshoot or leaks to worry about.
Size vs cost – We have the most screen for the least money! Other projection screens are either substantially more expensive or much smaller.
Easily cleaned – Machine washable. Cold water, cool dry.
Quality – Thoroughly tested and designed for easy outdoor set-up and solid stability.
Satisfaction Guaranteed – We want you to be satisfied and back that with a 45-day, money-back guarantee, as well as 24/7 online resources to help you get the most out of your outdoor movie theater experience.
Made in America – OutStandingScreens™ are made right here in the USA. We are not just here to sell you a screen and disappear. If you ever have problems, please contact us.
Safety
No electricity required for the screen
Fire-retardant screen materials
Lightweight, breathable screen material
Plastic stakes with round tops in a bright color for safety
Colorful red anchor lines
For more information contact: OutStandingScreens™
http://outstandingscreens.com
Facebook
YouTube