Product Review: Canon WUX10 3200 LumenHD Video Projector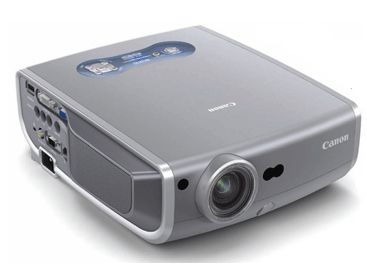 Weighing in at only 10.9 lbs, the Canon REALiS WUX10 LCOS Multimedia Projector certainly qualifies as "portable" and offers some unique features along with its ultra-high WUXGA resolution (1920 x 1200; 16:10) display capabilities. The WUX10 delivers 3200 lumens of image brightness with a 1000:1 contrast ratio and a MSRP of $12,999 although I found street prices hovering around the $9,000-$10,000 range. I know what you're thinking…"Why the high price tag?" Let's take a look at what you get for your money.
WUXGA Resolution
If you're an "early adopter" you'll want to know that the REALiS WUX10 is the world's first 1920 x 1200 LCOS video projector and when it comes to technology being first always comes at a higher price. This unit excels at displaying detailed computer-generated text, diagrams and images along with natural looking video images.
LCOS Technology
The vast majority of video projectors in operation today at any price level use either LCD or DLP imaging technology with LCOS (Liquid Crystal on Silicon) being the new kid on the block although it has been around for several years and continues to grow in popularity and cost effectiveness. LCOS technology boasts the "best of both worlds" and for the most part delivers on that promise of overcoming the weaknesses of LCD and DLP technology but all things being equal an LCOS projector is still going to cost more than traditional projectors. I found its color reproduction and moving picture clarity extremely realistic and pleasing to the eye.
Connectivity
The WUX10 has what I consider to be "good" connectivity. Video inputs include HDMI version 1.3, DVI-I digital PC input, D-sub 15 analog PC input (DVI-VGA computer cable included), component (BNCx5; adaptor cable included) and composite video. A stereo audio input x 3 is also included although don't expect to be "blown away" by the units meager 1w built-in speaker (or any other projector speaker for that matter). A stereo audio output x 1 is also included along with RS-232 and RJ45 control connectors. For the price I would have liked to have seen at least 1 D-sub 15 pin analog PC output/loop through port. The omission of a Y/C (S-video) input is not a disappointment.
Features
The WUX10 sets up in a snap and includes a responsive user-friendly remote control. The on-screen menu is easy to navigate with all function adjustments only a few clicks away including zoom, focus, input source, keystone, image parameters and even the position of the on-screen menu itself. Although the unit does not have lens/image shift capabilities it does provide a precise motorized 1.5x zoom lens and an auto set-up which adjusts focus, keystone, color and input via single button.
There are two lamp modes – "Normal" and "Economy" (think high-beam and low-beam) and the 275W NSH AC lamp is rated for 2000-3000 hours with a replacement cost of approx. $300.00. I found the "Normal" image brightness to be very acceptable with "Economy" mode adequate for subdued lighting conditions but as with all video projection you'll want to minimize ambient light spilling onto the screen regardless of lamp mode.
The WUX10s networking capabilities are a plus allowing projector monitoring and control from a remote PC which is especially useful for hard-to-reach installations such as a high ceiling. The unit does include front and rear IR sensors and its on-screen stop watch option is unique and could be useful in any number of presentation settings as well as the image mute, freeze and blank capabilities.
Another unique feature of the WUX10 is it's internal charging system which allows you to do what you have been told to NEVER do with a traditional projector…turn the projector off by simply unplugging it. (What!?). That's right, the projector's fan continues to operate even after you've tie-wrapped it's power cord. Nice. (but despite this knowledge, I still could hardly bring myself to "pull the plug" with the unit running!).
I found fan noise to be minimal as Canon claims (32-36db) and I like the units overall design and layout of its controls, connectors and three adjustable legs (1 front, 2 rear).
For a projector in this price range, I would have liked to have seen an analog VGA 15 pin computer output/loop as well as lens shift capabilities but the units lack of both is certainly not a deal breaker but simply "would-have-been-nice-to-have" omissions.
And although the WUX10s 3200 lumens of brightness will prove adequate for the vast majority of real-world applications it is designed for, a brightness rating of 4,000 or even 4,300 may have better matched its price tag.
Summary
With its release of the WUX10 Canon breaks new ground in high resolution projection and challenges traditional expectations of what a video projector can do. The unit does offer excellent image quality from both video and computer-generated sources with its unique strength being the display of detailed computer-generated graphics. The WUX10 packs a lot of punch, powerful features and cutting edge projection technology into a small package unlike any other projector I have seen to date. You alone will have to decide if Canon's WUX10 price-to-performance ratio is a match for your ministry but if you need to display detailed information and/or 1080p high definition video to a large (or small) group, this is the projector for you.