Central Baptist Church, Americus, GA Gets a Total Audio Makeover with the Help of GC Pro
GC Pro and Commercial Sound And Video take Central Baptist Church into the era of contemporary worship with a new sound system including digital audio console, in-ear monitoring and upgraded backline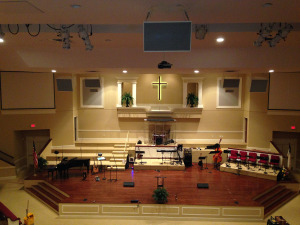 The last time the
Central Baptist Church
of Americus, Georgia, got a new sound system, the church's music was focused around the traditional elements of choir and organ. Times changed, and so did the church's style of worship, which has expanded to encompass more contemporary forms of praise and worship music, with electric guitars and drums joining the joyful noise. These changes, however, made the inadequacy of the original sound system readily apparent. "There was more instrumentation and far more low-end signal to the newer music, and that exposed the shortcomings of the old sound system," says Rodney Powe, the Central Baptist Church's Worship Leader. "The style of worship and available technology had advanced, and it was just time to move to a new sound system." That led the church to
Guitar Center Professional
(GC Pro), the outside sales division of Guitar Center that focuses on the needs of professional users.
Atlanta-based GC Pro Account Manager Brad Lyons spent time listening to the needs of the church and helped design a completely new sound system, including connecting them with locally based AV systems integrator Commercial Sound And Video, which provided installation services. "We knew it would be a big undertaking, so we were pleased that we had partnered with a company that could handle the entire project, helping us choose products and equipment and directing installation," says Powe.
And it was a big project. Lyons summarized the situation: "Some areas were too loud, others you could barely hear anything at all, and no bass response," he says of the sanctuary's sound system. "On-stage monitoring for the band was a hodge-podge at best. We transformed their entire sound system, customizing it to the unique challenges in their large worship space, but we also re-designed the stage layout and provided a state-of-the-art personal monitoring system for the large praise team and orchestra."
A new system using four Electro-Voice EVF1152D 15-inch cabinets was flown above the main floor in a 90×60 coverage pattern, and each with an Electro-Voice EVU1082 8-inch downfill cabinet mounted. A total of eight Electro-Voice EVU1082 fill cabinets were placed in the balcony, four per side. A pair of Electro-Voice EVF2151D Dual 15inch subwoofers fills the entire sanctuary with powerful bass. The power amps are Electro-Voice CPS-series power amps, with control using an Electro-Voice DC-ONE system processor. The existing 48-channel analog mixer (with 16-channel auxiliary mixer) was replaced with a 64-channel AVID S3L console with four independent stage boxes. Three racks on-stage and one at the FOH booth completely bypass the original analog patching system, providing a superior upgrade in sound and eliminating cable mess on the stage. The AVID S3L also provides 64-tracks recording to Pro Tools connected via CAT5 to the supplied Apple iMac computer and Glyph hard-drive, designed for playback in virtual sound check mode. This allows them to record rehearsals, then play the tracks back to fine-tune the individual channel settings for a better mix.
"Central Baptist broadcasts live over local radio, and this greatly enhances the quality of mix," says Nathan Miller, owner and founder of Commercial Sound And Video. "However, they are going to transition into post-production, allowing them to remix the worship services for a more polished sound, something not previously possible for them."
Lyons added, "With the S3L there is full recall of all settings and scenes. Every Easter they have a big production and this will allow them to have total control of the production."
Based on Lyons' design, Commercial Sound And Video installed a PIVITEC 32-input personal monitor system controlled via Apple iPad Minis with a total of nine independent mix stations and the ability to add as many more as they wish. There were many custom touches, with the goal of making the operation as simple as possible. One such feature was a customized patch panel consisting of eight XLR Male and eight SPEAKON connectors that took the guesswork out of connecting a stage monitor into the system.
Lyons adds, "Although the PIVITEC in-ear system was an amazing upgrade for the worship band, we still needed to provide traditional monitors to the choir, instruments, lead vocals and other musicians. Typically I would have to go find a speaker, a power amp and the cables, route a channel out of the console into the amp, connect a speaker cable to the speaker, and so forth. But here I designed the panel to take any confusion or error out of the situation. The process is simple really — I designed eight specific outputs from the VENUE S3L console for MONITOR MIX OUTPUTS, labeled MONITOR 1 through MONITOR 8. Patching into any of the XLR Inputs of the panel fed directly to a specific amplifier channel on the Electro-Voice CPS8.5 power amp (eight channels at 500-watts power per channel), and that speaker output then fed back to the SPEAKON out below the XLR connector. Powe and his team can simply plug in a speaker cable to the desired speaker, and voila!"
"Another thing that makes GC Pro so unique is their access to Guitar Center's entire inventory," states Rodney Powe. "We invested in four Radial JDImk3 direct boxes (keyboards) and two RED DI instrument pre-amps from A-Designs for the guitars. But with the new DP7 microphone package from Audix, our drums sound better than ever, because each drum is individually mic'd, plus a pair of overheads which we didn't have before. And with that combined with our 32-channel PIVITEC personal monitoring system, our musicians can hear everything. This is one of the many reasons that our leadership at Central Baptist Church chose the design from GC Pro, because it was more than just upgrading speakers – it was a full solutions systems approach."
The result was a total success. "We are getting lots of positive comments on the way our music sounds now, and we have GC Pro to thank for that," says Powe, who adds that GC Pro continues to support them, with Brad Lyons calling recently with a free software upgrade for the Avid console. "They were there for us during a complicated upgrade, and they continue to be there for us. It's great working with them."