Coming Up from How-To Workshops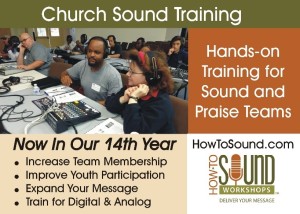 The nationally-recognized HOW-TO Workshops provide hands-on training for church sound and Praise team volunteers and staff. Now in their 14th year the workshops tour to 36 cities each year with over $125,000 in live sound equipment with the sole purpose of training church teams in the art and operation of live sound equipment. The HOW-TO Workshops are the leading providers of live sound training for worship and higher education in North America.
Upcoming Workshops:
Bethel Church, 1705 Todd Lane, Hampton, VA 23666. Saturday, August 23, 2014; 9 AM-6 PM
Family of Faith UMC, 801 Bellefontaine Avenue, Lima, OH 45801. Saturday, September 6, 2014; 9 AM-6 PM
Destiny Christian Church, 2161 Forrest Avenue, Dover, DE 19904. Saturday, September 20, 2014; 9 AM-6 PM.
In addition to the community-based, day-long workshop, the HOW-TO Workshops also offer private Tune-Up sessions for individual churches and a three-day Boot Camp session for churches and worship organizations needing more in-depth training. See more at www.howtosound.com or call 732-741-1275 or e-mail Hector@fitsandstarts.com
---